Listening to English podcasts is a great way to impact your English language and improve your communication skill. You get to learn different new words and observe how native English speakers use the words in communication. Plus they are entertaining and educational, which makes it one of my favorite ways of learning English, especially as a non-native speaker.

I have listed ten different beautiful podcasts I am sure can improve your English communication skill, so far you are committed to it. The podcasts can also be divided into three categories; beginners, intermediate, and advance. Pick any one that suits your English level and start enjoying the process of learning English with podcasts.





Ten 10 Brilliant Podcasts For English Learning
1.The English We Speak
"The English we speak" is a BBC podcast that centers on British culture, Idioms, Slang, and Lifestyle. The series is produced every week and it is often less than 3 minutes long. The accent is British English, of course, and the targeted audience is intermediate and advanced English learners. If you are planning to move to the UK or you have a lot of British as your business partners like me, this podcast is perfect for you. The sweet thing about this podcast is literally "lit". Well, that is the vocabulary they treated the very week I wrote this article.
Also, if you are a fan of the British accent, the podcast will go a long way in shaping your English accent and pronunciation of English words. You also get to learn a lot of vocabulary and how you can use them in everyday events.
You can download the podcast on the BBC website or Google podcast and apple podcast.
I will advise you to start with this, so you can confirm the "lit" I used up there. Smiles. Click here to listen to it
Luke's English Podcast is another amazing British English Podcast channel for English language learners. According to Luke, the podcast started in 2009, in his apartment. Sorry, I wasn't there to confirm.
However, I can confirm that the podcast is a great recommendation for intermediate English language learners. Plus, Luke is a standup comedian. The unique jokes in his podcast are enough to glue you to keep listening to it. Through that, you will be becoming a part of the English-speaking community, day by day. The queen's language for crying out loud!
Luke's English Podcast centers on British culture, Music, TV and film, Lifestyle. At times, he deviates on the latest thread in town, like the European cup, … He also features guest speakers like Paul Taylor, Roald Dahl, Charlie Baxter, and several other people. All these people make the podcast more conversational and easier to connect with. Also, it is perfect for intermediate English learners, though basic and advanced English learners can tag along too.
Where do I start?
Would you like to learn adjectives of personality such as abrasive, charismatic, irreverent, fragile & more? How about learn how to use them to describe the legendary John Lennon? Click here to listen
3. Voice of America Learning English
Okay guys, I finally got something for lovers of American English. And you know you know what? Voice of America Learning English has different strokes from everyone. Meaning it has something for all levels of the English language, including, beginner, intermediate, and advanced. And the interesting thing is the podcast is learner-friendly. The beginners' level focuses on topics like; Everyday Grammar, Basic English Words, and Meaning and Words and their stories. While the advanced and intermediate levels focus on different subjects like lifestyle, culture, health, science and technology, and all other popular fields. Vocabularies learned in this podcast can be applied in your everyday English language usage.
4. Entrepreneur on Fire
Sorry, this podcast is not created for learners of the English language. However, as an everyday fan of the podcast, I noticed it would be great for Advanced English learners who are interested in exploring the business world. John Lee Dumas started Entrepreneur with the primary purpose of helping small business owners grow their business and generate more profit. He brings in successful business owners for interviews and to share their secrets of generating wealth with his audience. This podcast, unlike many other podcasts on this list, is nonfictional. Meaning it captures real-life events. In other words, listening to it is like killing two birds with the same stone. You get to learn more English words and also boost your business orientation. Click here to start exploring Entrepreneur on Fire Podcasts.
5. All Ears English
Yeah, another podcast in American English specifically recommended for you to learn English and also improve your everyday English. It is targeted to the intermediate level, and it is brought to you by two ESL teachers, Boston and Michelle from New York City. All ears English is focused on American culture and explanations of confusing English expressions in a friendly and fun way. The duo brings up conversations on a particular word for the week and explains different ways to ensure listers can connect easily with them.
Boston and Michelle also invite other IELTS specialists like Jessica and Aubrey, and Lindsay and Michelle to train their listers for IELTS. So, if you are planning to write the IELTS, the podcast is more like a bonus for you. Listen to this How to Start Your Answer with Confidence and Personality in English.
6. Learn English Podcast by the British Council
Dear beginner English language learners, I am very sorry for overwhelming you with advanced and intermediate English podcasts. Anyways, I have a perfect podcast for you, and it is Learn English Podcast from the British Council. The truth is while this podcast is meant for beginners, even myself as an ESL teacher finds it very exciting to listen to. As a starter, I will love you to start with episode 1 of General English Click here to start now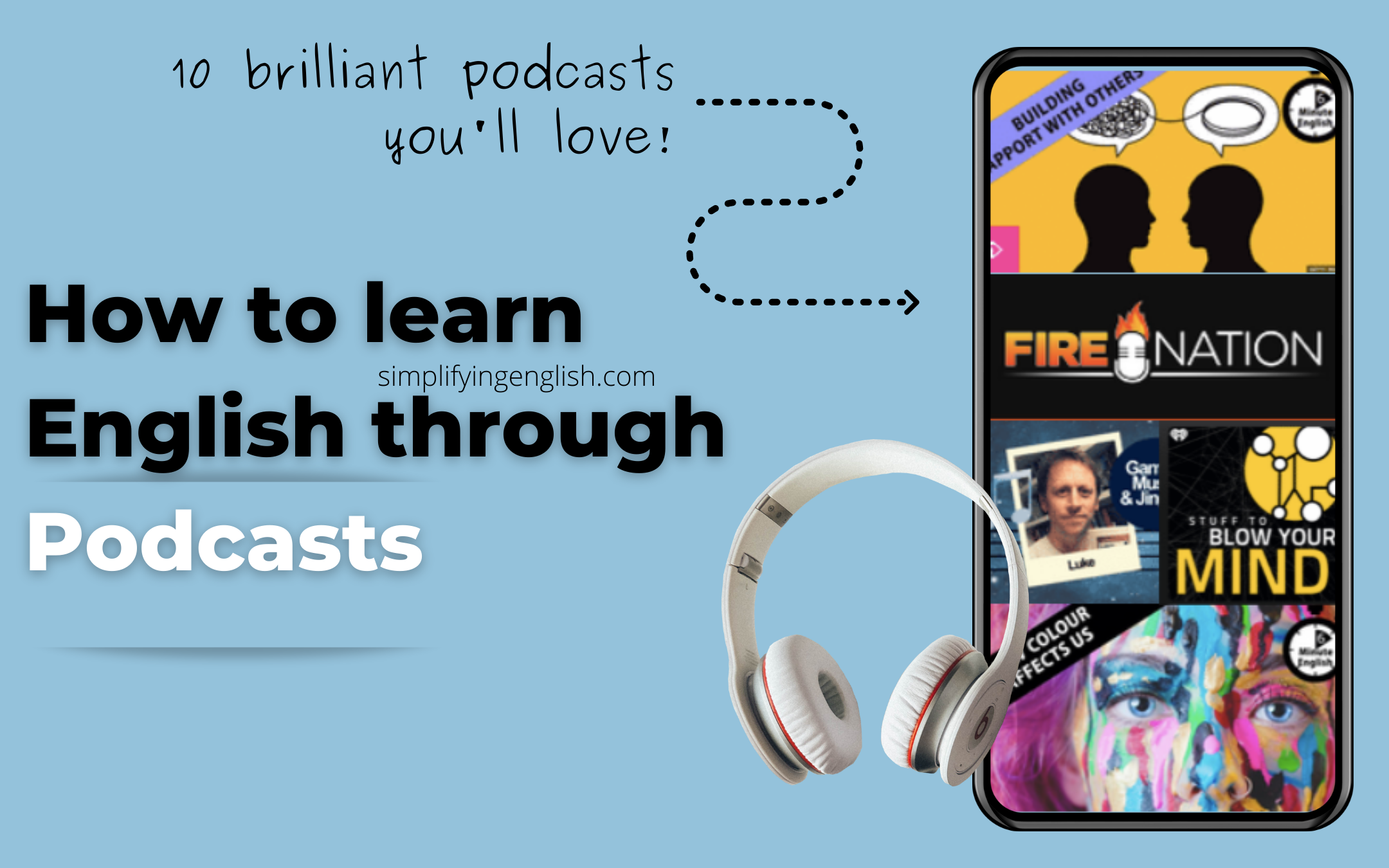 Crime Junkie, as the name implies, focuses on real-life stories of criminals. This shouldn't surprise you, many of us enjoy reading crime novels. The only difference is this one is a real-life event, Therefore, if you are the type who enjoy crime scenes or report about them, crime junkie is a perfect recommendation for you. It is tailored to advanced English learners, as the excess reports and broad usage of words may be overwhelming for intermediate English learners. Listen to WANTED: The Keddie Cabin Killer by Crime Junkie
8. 6-Minute English from the BBC
Do you have 6-minutes you can spare from your time to improve your English language? 6-Minute English from the BBC is a good recommendation for intermediate English learners. The podcast captures different thought-provoking questions and transcripts to follow up with the speakers. As an intermediate English learner, his podcast will help you learn different English words and phrases and how you can apply them in different situations. All you have to do is listen to an episode every day and you will come back to say big thank you, Swapna.
Where do I start? Do you find it easy to get on with everybody? Click here to listen to "Building rapport with others"Building rapport with others"
Stuff you should know is another interesting podcast I will recommend for advanced and interactive English learners. The podcast is all about intensifying common curious things that come to your mind funnily and interactively. Imagine questions like "Do zombies exist" or ``Have dragons ever existed? Imagine someone broadening the tendency of the existence of these creatures and making you imagine how the world would be if these creatures exist for real. Before you rush to listen to the Stuff You Should Know, note that the podcast is pretty long, length as long as 72 minutes at times. Sorry for breaking it to your face, I just think I should prepare you before you rush toward it. Anyway, you will enjoy this podcast. I will love you to start with Are good Samaritan laws effective. Did you just ask why? You will know why when you join the podcast.
10. Stuff to Blow Your Mind
Stuff to Blow Your Mind by Robert Lamb and Julie Douglas is all about exploring the world of science, technology, and philosophy. The podcast captures different real-life sciences and those of sci-fi, making the subjects they discuss exhaustively. The duo examines neurological quandaries, cosmic mysteries, evolutionary marvels, and our transhuman future. Note, this podcast is only for advanced English learners for broadening their English language in the science and technology industry. Click here to listen to different podcasts on Stuff to Blow Your Mind


Conclusion.
Listening to English podcasts enhances your English language and helps you build broad arrays of vocabulary. Each of the podcasts listed above captures different aspects of life. Choose the one that serves you best and commit to it.